…..I think. Remember that post where I whined about not knowing what to do with an exterior?  We had friends over last night and they asked "how did you know what to do with the plants?"  I said "We didn't.  We just kind of looked at other houses in the neighborhood, went to Lowes 5x a day and then guessed and held our breath."
Maybe this isn't the best way to go about re-landscaping ones house.  I wanted a major spruce up and really didn't care HOW it looked, I just wanted it to look good.  We had a plan that we thought was set in stone and then on our second to last trip to Lowes before we bought everything I completely changed the plan.  Parker was irritated, neither of us knew if the new plan would work, but we just held our breath, didn't talk about it much, came home and got to work.  I'll explain at the end of the post what exactly we did, but the first plan was what I call "normal, pretty plantscape"…. We ended up with a totally classic exterior aka kind of manicured, traditional, i don't know?? I don't know how we got here, but I love it.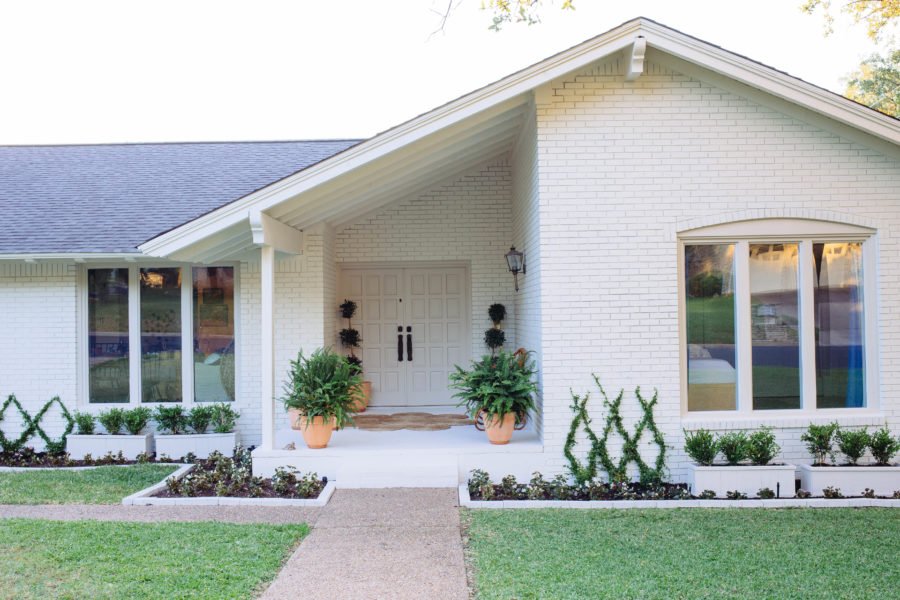 (hover over image to see sources)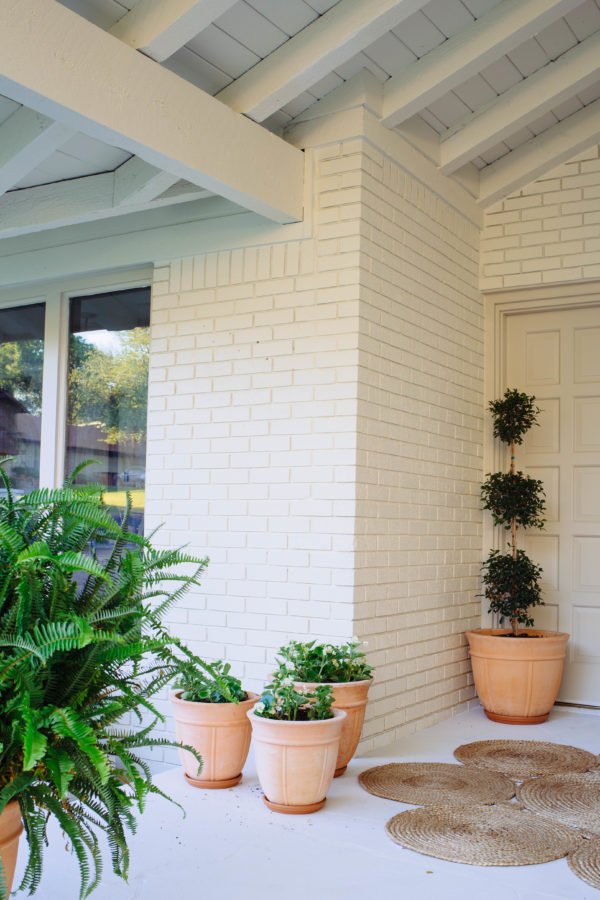 (hover over image to see sources)
What we did:
Painted Exterior – Jeff's crew (Supreme Finishes) painted the brick in Sherwin Williams Dover White and trim/doors & garage doors in Sherwin Williams Accessible Beige.  I'm soooooo happy with it.  It was a big commitment to make, but I think it added so much curb appeal to the house.  I wanted a warm white and was terrified of the brick looking too stark white.  I love interior walls painted in a bright white, but through my research (driving through every neighborhood in driving distance) I found that many houses painted white look TOO white.  I tried to explain this to Parker (why it's so important we choose a perfect creamy white color) by pointing out houses on said drives that just didn't get it right.  I don't mean for that to sound snooty.  I can't help but let my brain race when I'm analyzing something that is currently consuming me.  And just for the record, when I would point out these houses that looked too cold or stark white, Parker said he thought they looked great.  I was alone on the perfect creamy white (but not YELLOW) paint color.  I really do think I picked a good one.  If you're wanting to see more examples of Dover White on exteriors, Pinterest has a lot.  I'm not the only person that found the perfect exterior white.
Ripped up every little green spouting thing except the grass – Parker still claims this is the hardest he's ever worked.  He went through 3 shovels and fell into those massive boxwoods several times.  I didn't know if he was going to make it that day.  On the left side of the house there were plants (two rows of boxwoods obviously trimmed in a chevron/zigzag pattern, three tall things and a lot of other stuff.  We were originally planning on keeping the depth of that flower bed and were going to do three rows deep of plants.  The last minute plan included lessening the depth of that bed and filling the rest in with sod.  Man I'm so glad we did that.  In general, I wanted the plants to be SIMPLE and much less than what we had before.  I don't like when plants and landscape interfere with a house and especially since we were painting  the exterior, I didn't want much fluff.
Re-soil beds & add brick liner – This was my favorite part of the project.  Re-soiling is SO gratifying.  You see before your own eyes in about 2 seconds flat your dingy beds turn into a beautiful blank slate.  New soil is cheap and feels so fresh. We also added a brick liner around the beds.  We just laid them down (didn't attach them to the ground), so they might move around a bit, but not really worried about it.  We painted the bricks in the trim color (SW Accessible Beige).
Planters – This is where I went all classic/traditional.  Those planters in front of the windows were natural wood color but we painted them in the trim color so they didn't stand out too much.  We planted 3 boxwoods in each planter and did (2) 40″ planters in front of each 80″ window.  I love how you can see those windows on the left side now.  (Before they got lost.)  I wanted one POP and it to be through terracotta planters.  I thought that against the white brick, these would be really nice.
Ivy – This was part two of the last minute plan.  I got some great feedback on this post and a few people suggested adding some kind of climbing plant to the right side of the house.  My brain starting racing.  I went straight to Pinterest for inspiration and then started researching.  Lots of people are fans of ivy (can be high maintence and if you have the wrong type can destroy your brick).  An english ivy should only live on a wooden fence (NOT brick) is what I was told by the expert at Lowes.  Greg said that I need a creeping fig, so that's what I bought.  I'd really like to train the ivy to grow in a trellis pattern (I mean, why not?) so you'll see that we got that started.  If the trellis pattern ends up being a bust, I wont be upset if the ivy just covers around that window.  The reader that originally suggested a climbing plant pointed out that I needed some height on that tall, right side, and she was so right.  I didn't want anything that was big and bushy, and LOVE how ivy looks.  Yes, it will be a lot of maintence, but I bought a gardening hat and feel ready for it.
Here's how we secured the ivy:
Parker used a masonry drill bit (the smallest option available) to make holes for the hooks.  We then screwed the hooks into the holes.  I wanted a trellis pattern so we spaced out the hooks to create that.  I think the hooks were about 14″ apart.
After the hooks were in I went through and connected them with wire.  Parker wanted to use one piece of wire for each line but I decided to cut separate wire pieces to connect each hook (was just thinking that if one hook came out, the whole thing would be dead meat…)

After that I planted an ivy plant at the base of each point (so 2 total plants shown in the photo below).  After the ivy plants were planted, I wrapped the vines around the wire to follow the pattern.  I didn't have to use zip ties to secure the ivy but that's an option if the ivy doesn't want to stay wrapped around the wire.
The vines need to be cleaned up but I'm waiting until they start growing a bit to start manicuring them…
I really can't put into words how much we love the new exterior.  It feels charming and so welcoming to us.  Thank you to Lowes for the opportunity to make this happen.  They gave me a budget of $2,500 which covered the paint (fyi we needed 25 gallons of masonry primer, 15 gallons of brick paint & 5 gallons of trim paint), all planters, new sod & plants.  So grateful to partner with such a generous brand.
Please let me know what you think (or if you've ever done anything similar to your exterior)!