I've shown the pretty parts of our kitchen (let's call it the kitchen's form) but how about how its function?  An element that I really love about our kitchen is that it was done on a realistic reno budget.  We used ready made/store bought cabinets (literally picked up the fully built cabinets and drove them one by one from Lowes to our house) and also went with reasonably priced materials (saltillo tile), fixtures (lighting, hardware) to stay within a reasonable budget.  With a custom kitchen, you pay much more money but in return you get to customize every inch and cranny of that thing.  Built in garbage disposal?  Built in paper towel holder? Built in wine rack?  Basically built in ______ (fill in the blank with anything at all) and you can have it with a custom kitchen.  Same goes with the cabinet sizes.  The standard cabinet widths are 24″, 30″ & 36″ but if you have a wall that doesn't equal a combination of those numbers, you can have a 28.58″ kitchen cabinet.  Obviously another plus of custom cabs is that the quality of wood is going to be nice to very nice.  With ready made cabs, you are working with plywood, which TOTALLY gets the job done for the record, but if you want the kitchen to last for 15+ years, they might start slowin down on ya.  Bottom line here – with custom cabinets, you get to totally customize any and every detail you could possibly image.  With store bought cabinets, you can still customize, it just takes some planning.
When we gutted the kitchen, we were left with a huge empty rectangle.
Since we were going ready made cabs, we started calculating 24s, 30s & 36s to see how many of what we could fit.  That back wall is 15′ across from the corner to the start of the door and that left wall is 13′ across.  Below is the plan we put together (& what we went with).
So back wall: 36″ + 36″ + 24″ + 30″ + 24″ + 30″ to equal EXACTLY 15′.
And left wall: 36″ + 36″ + 24″ + 36″ to equal 11′ (2′ shorter than a maxed out wall).
I really can't tell you why that couch is there in the kitchen
And then came Parker's most favorite part of the kitchen reno.  Also the part that he took complete ownership of: organizing the insides of the cabinets.
With these ready made cabinets (see this post for the cabinet sources) you get a nice drawer on top and then the lower portion is open cabinet space.  There aren't any shelves in them, which means a lot of STUFF stacked/thrown in there if you don't add organizers.  Here's what the inside looks like without a nice organizer:
The options here are A) add a shelf that still won't allow you to totally utilize the cabinet space or B) this: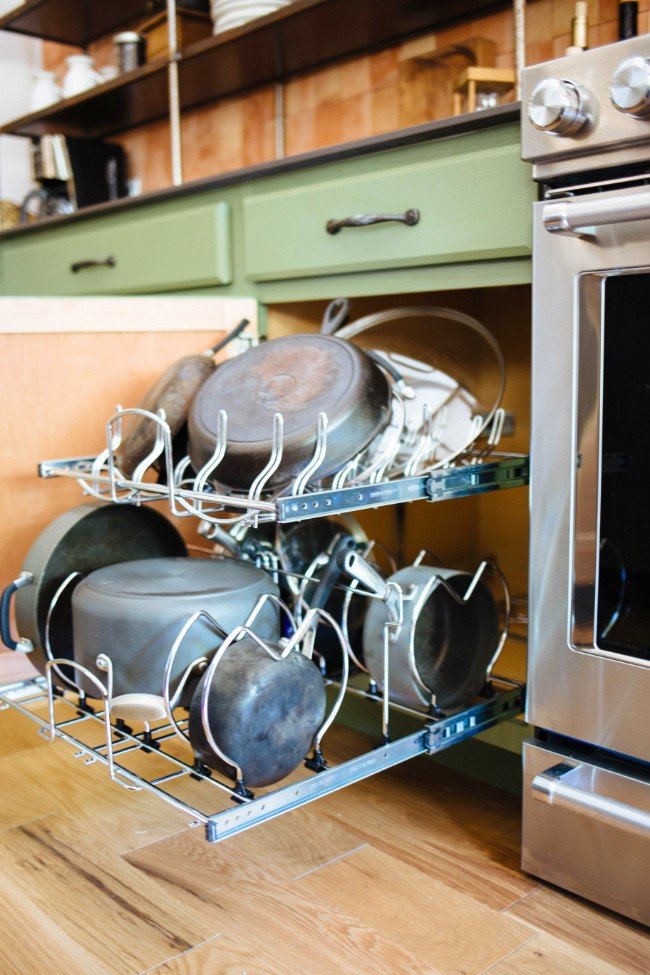 Btw, we went with all  Rev-A-Shelf- brand organizers from Lowes.  They seem to be the leaders in this industry.
If you're someone who really likes all the things to be organized, this above photo looks really nice to you.  I do like organization, I don't like planning for it.  I just like to reap the benefits.  Thankfully Parker likes to both plan for organization AND enjoy it.  This was what he was most excited for: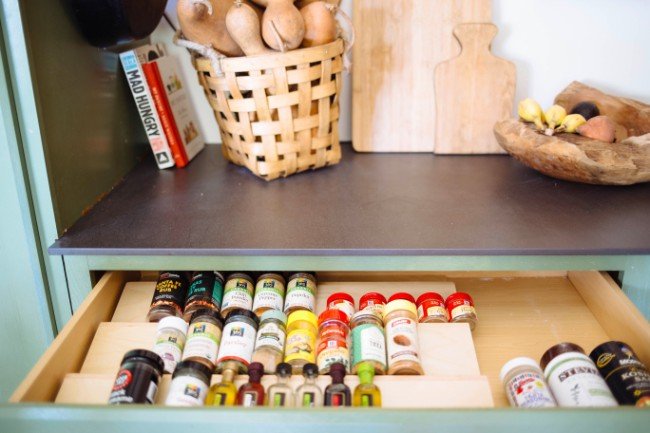 He went back and forth several times as to how the spices should be organized: by flavor or alphabetically?  A tough one, but he went with flavor.  Also, his future plans are to have all of the spices be the same brand.
But seriously, those drawer organizers are INSANE.  We have one in all drawers except the junk drawers and the misc drawer.  I put my foot down and said a junk drawer isn't allowed to have an organizer.  That defeats its purpose.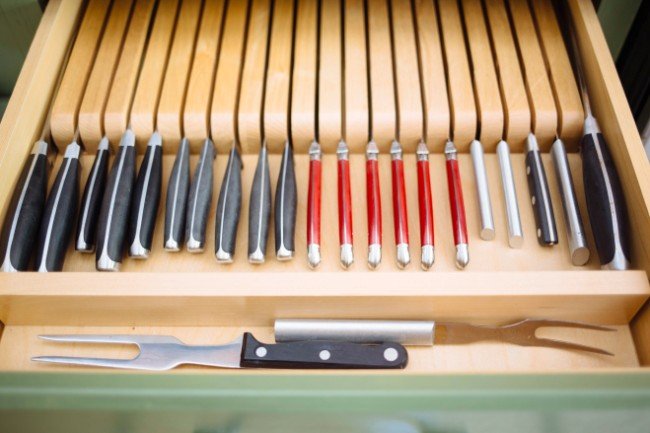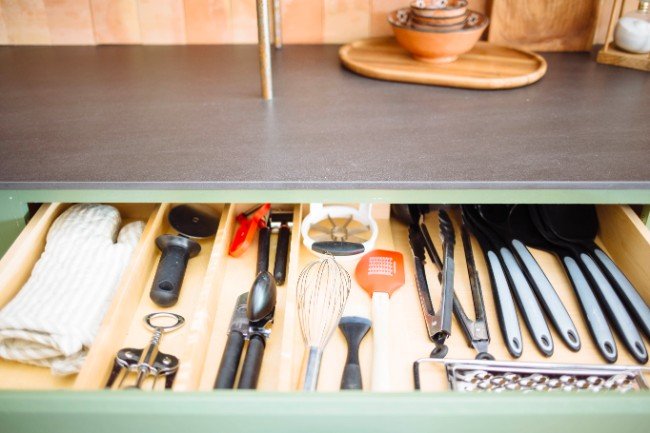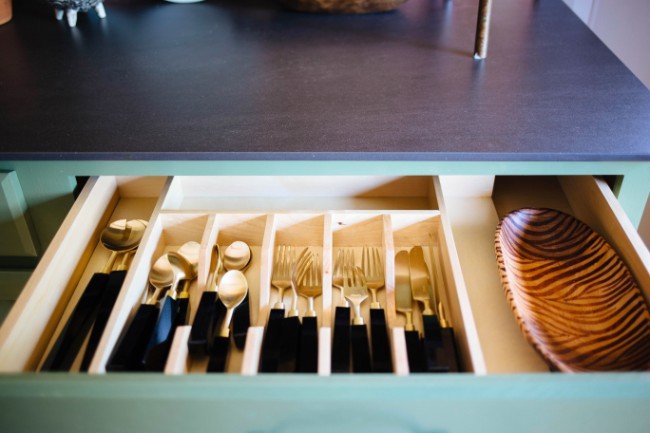 But then again, how amazing would this junk drawer look with an organizer?
The misc. drawer isn't too bad.
That accounts for the 6 drawers we have.  For the lower cabinets we have the pot/pan rack installed to the left of the oven –
We haven't tackled the rest of the lower cabinets but plan to add more rev-a-shelf organizers.
Baking/tupperware:
Pans:
Appliances:
Under the sink:
As for our trash, we use the cabinet to the left of the sink for that.  That can under the sink is for recycling and then we have this to the left of the sink –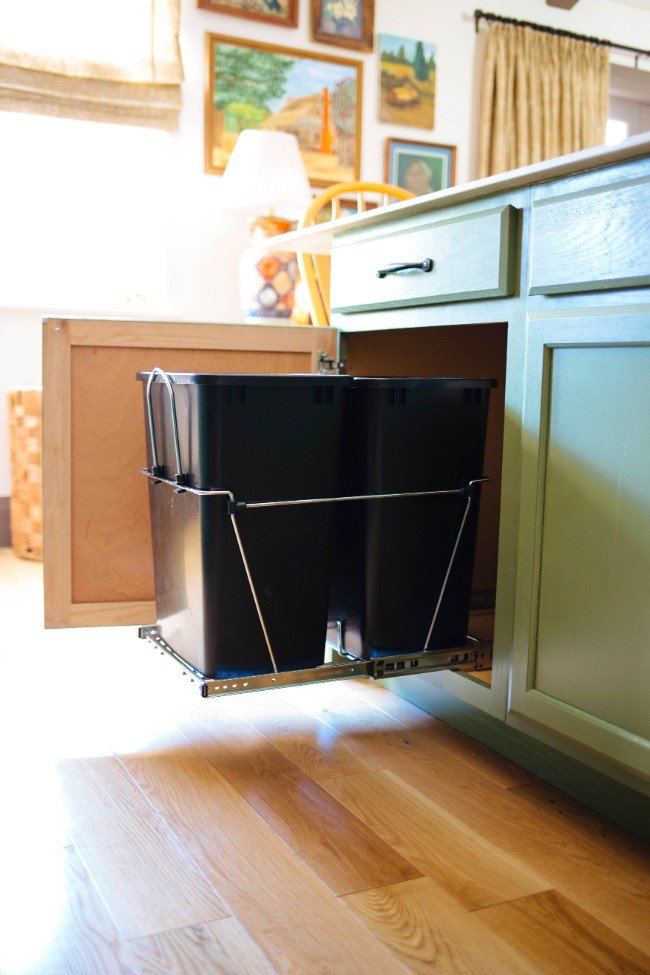 And then the lazy susan in the corner cabinet –
We store all cups that aren't pretty enough to be seen on the open shelves.
Lastly, we have the pantry.  The pantry had to be at least 24″ wide so that we could fit a microwave in there.
The pantry also holds, you know, our food and such.
So while no kitchen is the same, if you have approx 15′ x 13′ to fill with cabinets, below is how we planned/organized our store bought kitchen.
13′ Side
36″ – Fridge
24″ – Tall Pantry
36″ – Drawer: Spices / Lower Cabinet: Baking/Tupperware
36″ Corner Cabinet – Plastic cups
15′ Side
36″ Corner Cabinet – Plastic cups
36″ – Drawer: Utensils / Lower Cabinet: Appliances
24″ – Drawer: Knifes / Lower Cabinet: Pots
24″ – Drawer: Misc (foil, napkins, etc) / Lower Cabinet: Pans
30″ – Drawer: Silverware / Lower Cabinet: Serving Pieces
8 1/2′ Island
24″ – Dishwasher
36″ – Sink
30″ – Drawer: Junk Drawer / Lower Cabinet: Trash
---
You can hover over the images below for the sources.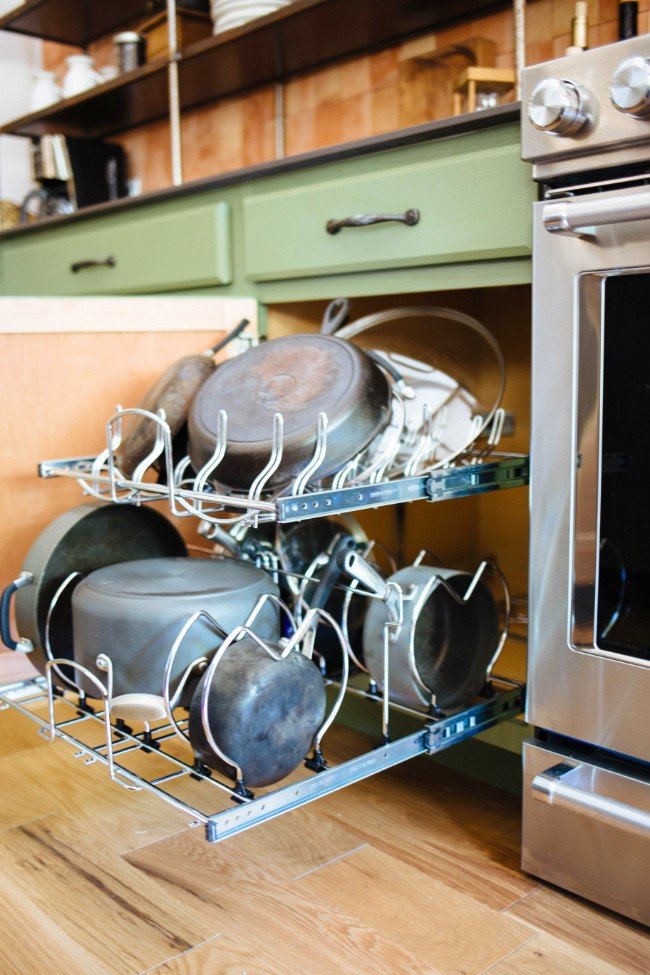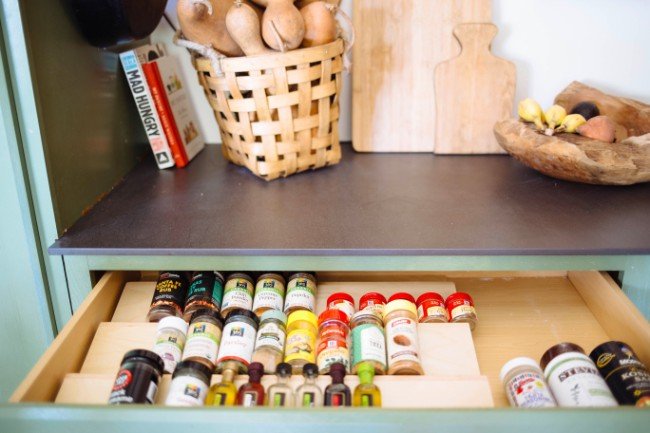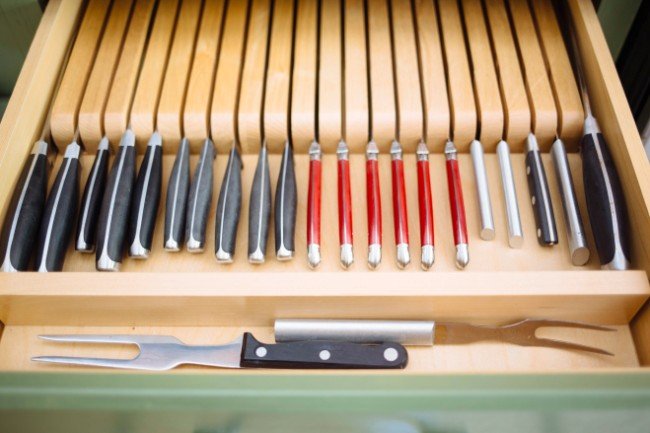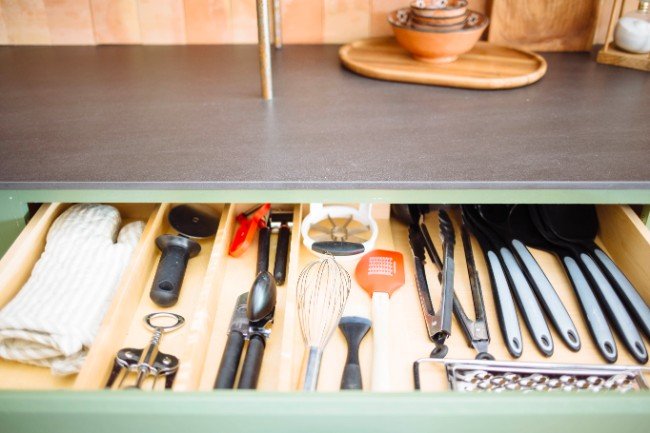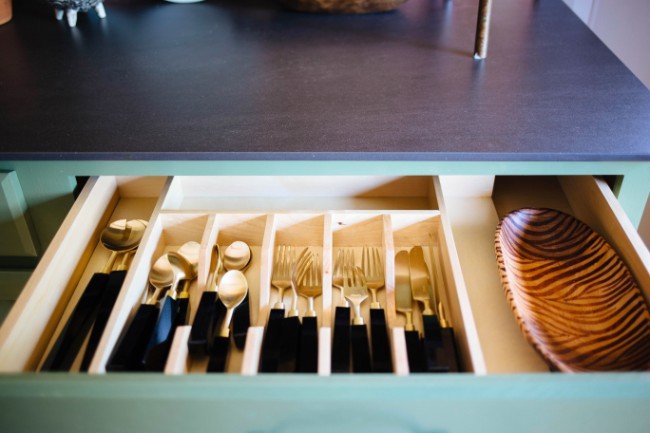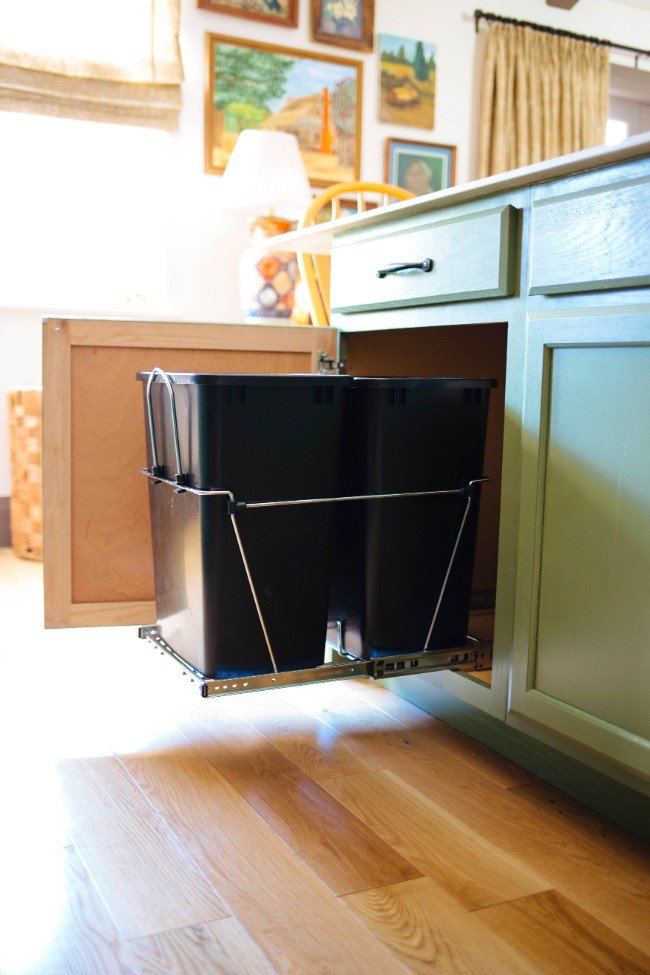 *This post was sponsored by Lowes.  Truly a great brand. Thanks to them and to you for reading!