New Country Collected?????  I'll be honest, and I'm sure most of you feel the same, but hearing "COUNTRY" to describe home decor makes me want to crawl under my modern shaped coffee table and pretend like I didn't hear that word.  Yet here I am with that word in the title of my new kitchen's  name.  And it didn't happen by accident…..
Two important details to note:
 We live in Texas.  Yes, Austin, is the misfit city in Texas, but we're still in Texas.  There is naturally A LOT of country in this state (not so much in Houston, Dallas & Austin, but outside of the bigger cities, country is a thing as it should be).
We bought a ranch style home.
Double wammy there….. And after thinking about those two details for quite some time, I decided that the kitchen/main living area needed to feel true to Texas and the house's ranch style.  Thus why I'm calling my kitchen "new country" even though that's not a thing.
To keep this post from exceeding 3,000 words, I'll direct you back to the first two posts I shared on the kitchen.  I really can't remember what I had to say in the first post, but I do remember that the second post is beefed full of so much info on this kitchen.
Can we please eat up these before shots?  This first shot is my favorite because it shows the whole picture (also makes for a dramatic before/after).
Nothing wrong here functionally, and really, aesthetically, it could have been much worse….
I shared way back when that this was our first home to purchase.  We met with Jeff the day before we closed and scheduled the demo of this kitchen and floors to start five days after we closed.
I reached out to the lovely people at Lowe's on a whim and asked if they would be interested in partnering with us on a kitchen remodel.  I sent over my design, thinking there was no way a company like Lowe's would trust me to showcase their product on the level they expect.  To my surprise, I heard back from them and they really liked the material selection and overall "unique" look I was hoping to achieve.  Lowe's said they were looking  to show people how to use budget friendly materials in a way that looks totally unique and custom.  (Music to my ears right there…..) A new partnership was formed and we started chatting about how to achieve my vision for around $15,000.
So first, that wall had to go.  Why someone would abruptly cut off that beautiful ceiling beats me, but the first step was removing that wall and finishing off that ceiling vault.
As for floor plan, we walled back up the dining room.  The photo below is taken from the dining room, and we walled back up along that line where the posts used to be.  You can see the original kitchen jutted out into the dining room, and we kept that wall line on the dining room side.  Right now it's just an empty closet with no doors.  We'll eventually turn it into a bar closet.
Next up was drywalling the dining back up.
Next came flooring (which I yapped about here).
After the room was a room again, we started the fun part: installing cabinets, painting cabinets, countertop installation, appliances, tile, lighting & everything else.
That saltillo tile gave me a tad bit of anxiety (documented here), but man, I'm so happy I did it.  It's incredible in person if I do say so myself.
The saltillo tile came in 12″ squares and we (we = Jeff's professional tile crew) cut it down to 4″ squares.  That tile is SO SO SOFT.  No way were we touching it especially after the bathroom tile experience.  I decided as they were cutting the tile that I didn't want to grout……..  The installers thought I was mad crazy, but I think it lessened their work load which they appreciated because they didn't know they were cutting down the tiles until that morning.  Sometimes I forget to mention important things to people.
Okay, that's the evolution of the kitchen summed up in photos.  Kayla photographed this kitchen beautifully and I'm so excited to share….
And here we are:
My brain is exploding here.  I have so much to say but can't type fast enough.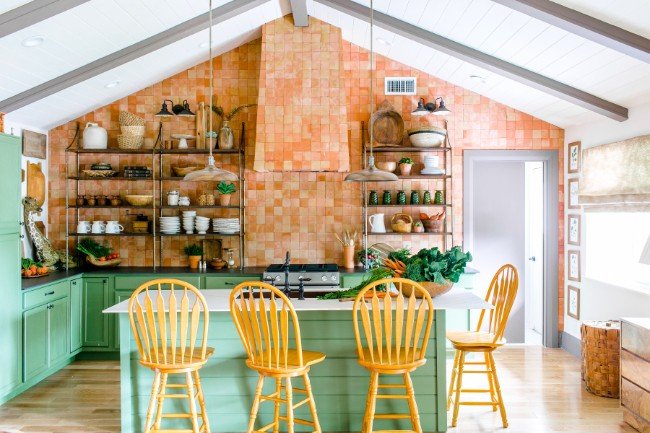 It feels fresh yet collected, which is just what I hoped to achieve.  This kitchen is the only "color" this house is getting, so I wanted to make it classic color.  Classic color as in natural color…. The saltillo tile photographed brighter than it is in person (just slightly).  It feels good in person.
I had those shelves custom made, and Justin exceeded my expectations.  I sent him a photo of what I wanted as well as dimensions and he went to town.  He calls them "rustic" although I refuse to use that word.  I just don't picture things I like when I hear "rustic".  He refers to them as that because of the natural patina he was able to apply.  Is there anything better than the phrase "natural patina"????????
The kitchen cabinets were a breeze to paint.  Because we went with unfinished cabinets, they were sanded and ready to go.  Parker used a mini foam roller (about 6″ wide) to avoid brush marks and they really look professionally painted.  He applied one coat of primer and a couple coats of the paint.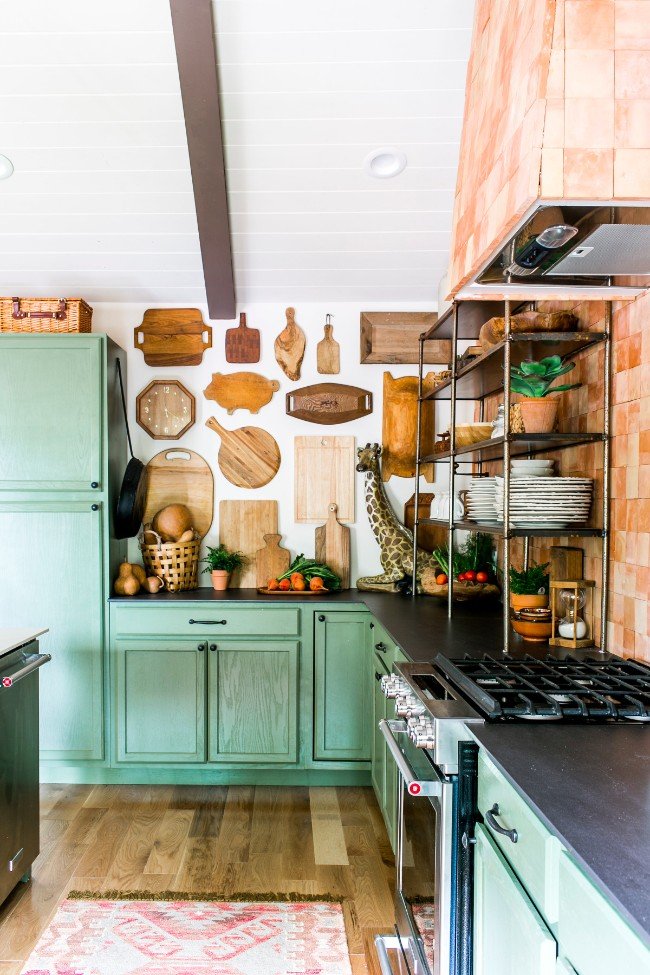 I hear you can never have too many cutting boards….
If this house were on fire, that giraffe would be one of the top 10 things I would grab.  He belongs to my Grandmother (I'm terrible and kidnapped him from her).  That giraffe lived on  my grandmother's entry table for YEARS.  Before I was born.  Last year I borrowed him for my parents' living room (knowing he would end up at my house).  I showed my grandmother a photo of that giraffe now living on top of our kitchen counter, and she LOVED it.
I talked about the countertops here, but basically I wanted something very simple. I love the look of soapstone and thought the black Duralosa material on the back cabinets looked similar to it.  We went with a white-ish color on the island to brighten it up.  Glad we did that.  This material is literally indestructible.  I'm 99% sure you can light a flame on it.  They've been great and visually do just what they need to do.
And one more view looking out from the living room.  I spend 80% of my time in that end chair at the island.  I truly couldn't be happier with how the kitchen turned out.  It feels very "us"…..which I'm sure will be ever-changing, but now it feels warm, cozy & fresh.  Parker loves to cook and tears up that kitchen every night for dinner.  The appliances have been a dream.  Sometimes I just stare at that fridge.  The whole process has been a dream really, so thank you to Lowe's for making it happen. I'm incredibly grateful.
Really excited to hear what you all think!
*Photographed by Kayla Snell
Sources
*Indicates product donated by Lowes
Cabinets:
* (1) Project Source 36″ Sink Base Cabinet – $100
*(2) Project Source 36″ Base Cabinet – $266
*(3) Project Source 24″ Cabinet Base – $270
*(1) Project Corner Base Cabinet – $179
*(1) Project Source Over the Fridge Upper Cabinet – $63
*(1) Diamond NOW Pantry Cabinet – $277
*Olympic Cabinet Paint (3 gallons) – $84
Materials:
*Duralosa Avena (Island) Countertop (28 sq ft @ $64/sq ft for material & installation) – $1,792
*Duralosa Pizarra  Countertop (37 sq ft @ $83 sq ft for material & installation) – $3,071
*GBI Saltillo Tile (150 sq ft @ 1.50 sq ft) – $225
Saltillo Tile Installation – $1,000
Sink:
*Premier Copper Antique Single Basin Sink – $1000
*Elements of Design Oil Rubbed Bronze Faucet – $241
Lighting:
*Kichler 16″ Natural Brass Pendants (2) – $516
*Allen + Roth 2-Light Bronze Sconces (2) – $120
Hardware:
*(6)Hickory Hardware Iron Pulls – $48
*(17)  Hickory Hardware Round Iron Knobs – $79
Other:
*(4) Winsome Wood Natural Barstools – $300
Styling accessories (all vintage and/or pre-owned) – $300
Metal/Wood Shelves (custom made) – $725
Appliances:
*KitchenAid Counter Depth Refrigerator – $2970
*Kitchen Aid Built-In Dishwasher – $650
*KitchenAid 5 Burner 30″ Range – $2610
*Broan Convertible Wall Mounted Range Hood – $480
TOTAL – $17,366
What do you all think about that number?  Yes, its A LOT of money, but for a brand new kitchen, what are your thoughts?  Obviously it's not a custom kitchen (that would triple the price at least) BUT not everyone needs that.  I'd consider this kitchen a "ready made kitchen with custom touches" (shelves, fridge panel, tile job)……
Claire
*This kitchen was a partnership with Lowes, as they provided all materials.  Thank you for supporting such an amazing brand.